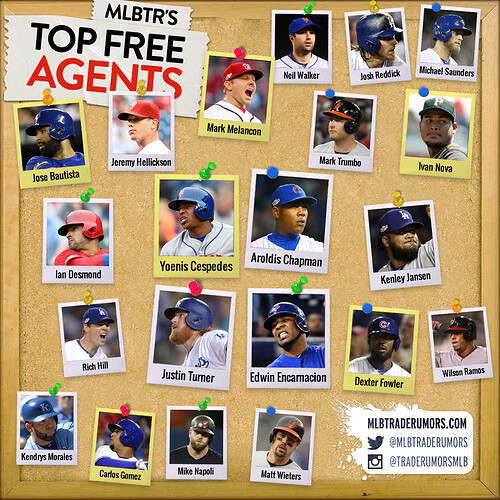 Welcome to the 2nd Edition of the MLBTR Top 50 Free Agent Contest for Ottoneu owners.
Ottoneu creator @nivshah has been gracious enough to offer a free standard season of Ottoneu ($9.99)* to the five (5) community members who predict the highest number of correct free agent landing spots this winter. This contest is for @everyone so follow the link below to make your free agent predictions in the spreadsheet. The deadline for getting all predictions loaded will be 5 PM EST Sunday, November 13th.
Record your Top 50 FA predictions here: https://docs.google.com/spreadsheets/d/1dvPh2cOy-dohIC93FOS7xDU0ky2phN5R4R1cdVXjeBo/edit?usp=sharing
*Winners who have already paid Ottoneu fees for the 2017 season will be rewarded with the discount for the 2018 season (or those in prize leagues will receive the $9.99 as a rebate when prizes are paid out for the 2017 season). Winners will be announced on this thread in the community once all Top 50 FA's have signed.
This contest is available to @trust_level_0, @trust_level_1, @trust_level_2, @trust_level_3, and @trust_level_4 - or everyone!