Ottoneu Fantasy Basketball so far seems pretty fun and successful other than one key problem: seeing the whole picture for setting lienups for the week. I've thought about what I'd like out of setting fantasy basketball lineups and put a lot of time into a new experience that I hope everyone likes as much as I do.
Behold the new Weekly View: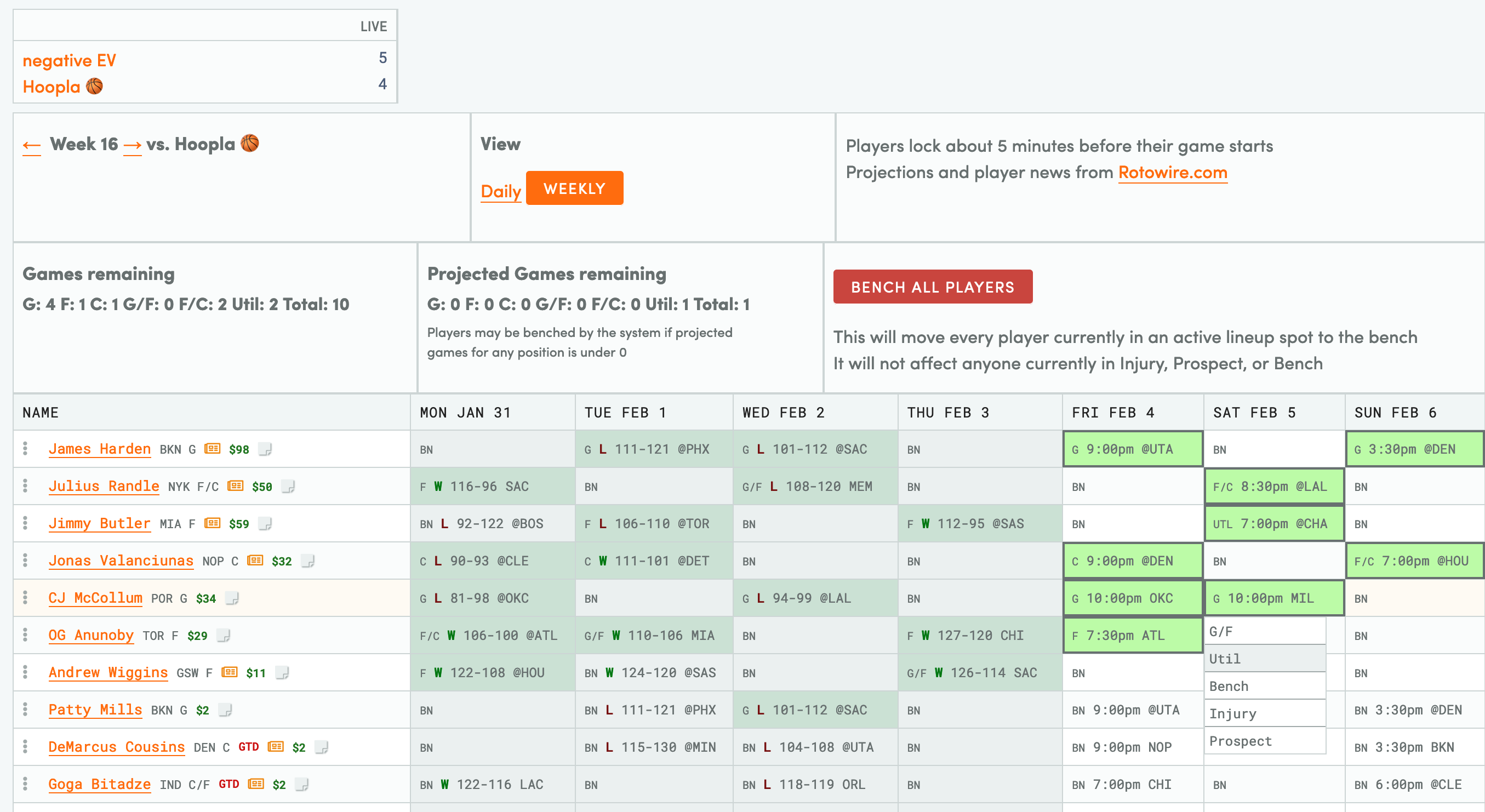 Let's break it down.

Projected Games remaining has been added in, so as you are setting your lineups you can see if you're set to fill out all your games.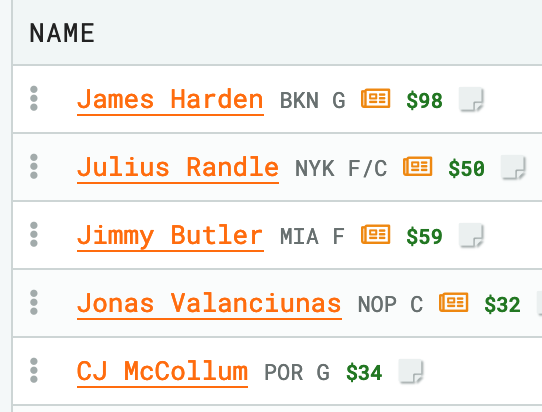 Players are default sorted by salary and how recently they've been added, but you can sort them using the 3 vertical dots here to drag and drop them into whatever order you prefer.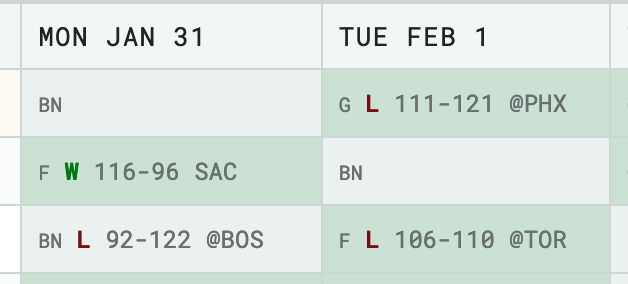 Past games where you had players in the lineup are denoted by green. If you had a player in your lineup and they did not play (0mins played), this would be red instead, an indicator that a game that was planned on being used was not actually used.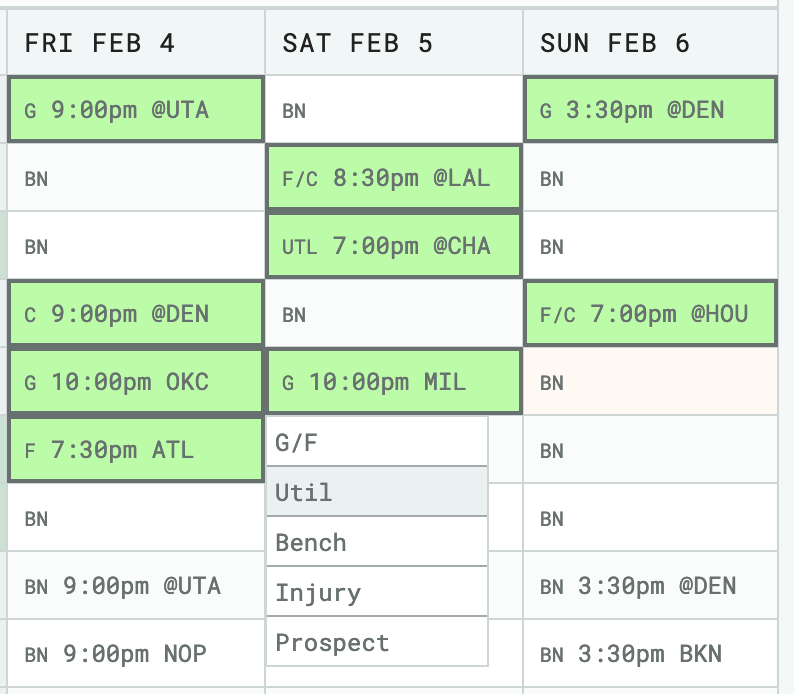 This is the core of the experience. The bright green boxes are players in lineup who haven't played yet. In this example, I've clicked on the box for C.J. McCollum's game on February 5 vs Milwaukee. He's already in the G slot, but I can move him to the available slots for that day. Util is grayed out because Jimmy Butler is in the one Util slot on February 5 already. Despite not having any more games available at G/F, I still have the option to put McCollum into the G/F slot. If I do this, the system will knock him out of the lineup at lock time and I will not gain his stats.


Here I've moved Jonas Valanciunas from C to Util for his game at Denver at 9pm tonight. You'll note it has not affected his lineup position for Sunday at Houston at 7pm. Changes in the weekly view only affect specifically the day you've made the change - they will not persist. More on this in a moment.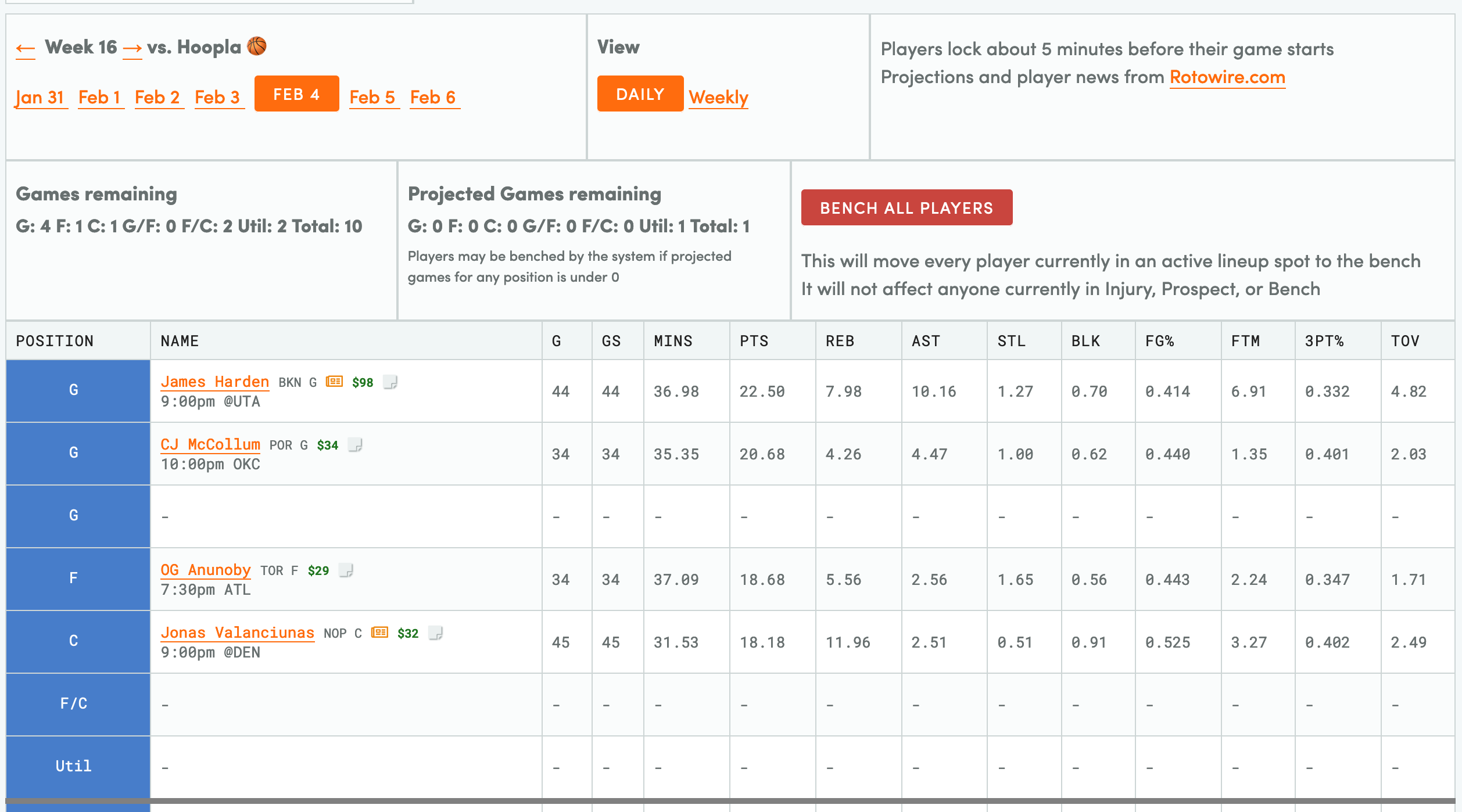 The daily lineup experience remains mostly the same, but with a couple of key changes:
The projected games box is available here as well
Lineup changes made here will no longer persist. If you place a player in the lineup on this page, he will no longer automatically be in that lineup slot going forward. This is a massive change to how Ottoneu handles lineups across all sports. I think this makes sense for basketball because of the specific goals behind setting the basketball lineup - start by setting the lineup for the whole week, and then the daily view can be used to adjust based on chasing a specific stat or because someone got injured or has a rougher matchup. Lineup persistence was actually a hindrance that led to the Wishlist request for the Bench All Players button.
The Weekly View is available now as the new default lineup page experience. The Daily/Stats view is still available by clicking the "Daily" link underneath "View".
My recommendation for getting started, especially this upcoming Monday when a new fantasy matchup starts:
Bench All Players
Order your player list so your key players are at the top
Fill out all 27 games for the week, getting every position in Projected Games down to 0
You may experience inaccurate numbers in Projected Games, as I have not tested every single possibility, so please let me know if you see that or other bugs in the Tech Support forums. If you have any questions about how to use this page, feel free to ask here. I really hope you enjoy this new lineup experience! Thanks as always for supporting Ottoneu Fantasy Sports.