Some of you may have already read about this on Slack, for those who didn't: I built a tool that uses Baseball Savant Batted balls data and projects those on general baseball park dimensions. So for example, if Joey Votto would have hit all his batted balls this season (Mar-Jn) in Fenway Park, he would have had 44 Homeruns! Aaron Judge would only be 10th with 37 in Fenway Park.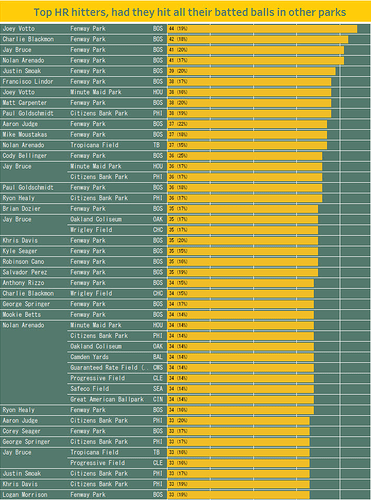 Some caveats apply: I compare batted ball distance and spray angle to general baseballpark dimensions, not including the fact that some stadiums have a massive wall in left field, nor weather, elevation, opposition strength, etc.
The whole tool / dashboard can be found here: https://public.tableau.com/views/MLBBattedBallAnalysis2017/BattedBallsDashboard?:embed=y&:display_count=yes
I also did a bit of a write-up on my blog to explain in a bit more detail how I did this dashboard. You can read it here.
It basically looks at what would actual batted balls from March-June this season have been in any ballpark (again, not considering walls etc.):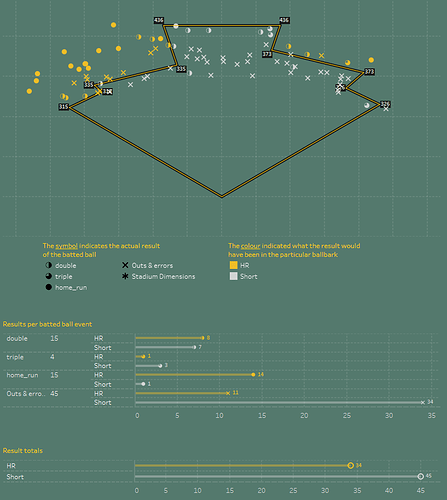 Some notes on how to read it: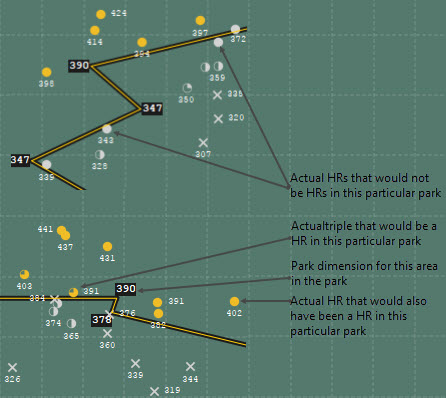 I'd appreciate any feedback.
RJ