Ottoneu Fantasy Football commissioners can now choose to override default their league's default playoff seeds. Visit Commish Tools and check the Allow Custom Seeding checkbox: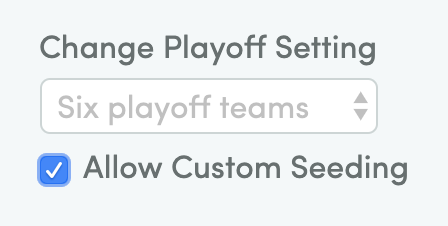 This setting is available immediately and will take effect for the 2019 Ottoneu Fantasy Football playoffs.
If this setting is saved, the playoff page will note that commissioners can change playoff teams between the end of the regular season and the start of the playoffs.
In order to change playoff teams during the window after the regular season ends and the playoffs start, a commissioner can visit the playoffs page and click to swap any team with any other team on that page. Once the Thursday night game of the first playoff week starts, commissioners will no longer be allowed to swap playoff teams and the custom seeding option will be locked for the remainder of the season.
If this system works well, it will be brought to Ottoneu Fantasy Baseball for the 2020 season. This was a request from the Wishlist and @henry1978j now has a Genie badge.
Please use this thread to ask any questions you may have about this new feature. Thanks as always for your support of Ottoneu Fantasy Sports!