We all know that strikeouts have been on the rise in MLB for several years. Here are the K rates for the last ten seasons, calculated as K/PA for all PA by non-pitcher hitters: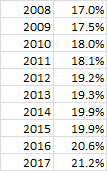 That makes for a pretty remarkable sparkline:

The average year-to-year increase is 0.5% and it's nearly a straight line. I'm curious whether you expect the league-wide K rate to continue to increase, level off, or start to drop in 2018. Below is a poll, with the options kept artificially narrow, for simplicity. Please vote for what you think is the most likely outcome.
Increase to 21.7%
Stay at 21.2%
Drop to 20.7%