General Ottoneu baseball discussion here. All topics, questions, comments welcome.
Does anybody have tips or tricks to get a better response from trade block updates? Is there anything you see on other teams trade blocks that make you more or less likely to make an offer?
This is a good question but you probably won't like my answer: just assume no one will ever seek you out for your trade block updates and instead take the proactive approach to dialogue and contact each team individually. I usually start each season notifying each team with a list of players I like from their roster. I use my own trade block more to specify which positions I might be prioritizing, though some teams do a really nice job with their OTB, so there are lots of different strategies here. All leagues are different though and the On The Block tool is still super useful at communicating Haves & Needs to the league, so don't shy away from it.
Great example from @bdmorris.jr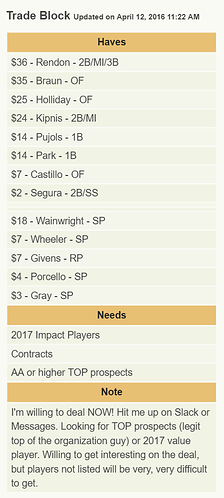 Maybe I'm in the minority but I always check when I see a trade block update. You never know what other teams value or, maybe more importantly, don't value.
I do like the approach of saying that guys aren't listed on the block are tougher to get. Feel like that saved a lot of time.
I've tried a lot of different things with my trade block:
I've laid it out very nice.
I've made things very orderly.
I've organized them based on how hard people are to get.
I've put my players into customized tiers.
But Trey is right. You have to shop your players. Update your block frequently. Market them differently than other teams. Be honest about what you want in return for your players.
Good luck!
Bryce Harper is a Beast
Bryce Harper's 1,340 FGPTS points last year (2015) were the most points scored by a hitter since Albert Pujols scored 1,443 in 2009.
If your team is in first place and a different team nominates a player for blind auction, is there any reason why you shouldn't bid $1 on that player?
No reason not to. If I'm in 1st place and haven't nominated a player up for auction I always bid $1 if it's a player I don't want.
Question for the room: we're now almost 3 weeks into the season, so how much weight are you putting into your league standings at this point? How do you know where you really stand? Just curious to get a general feel from others on what to make of the standings less than one month in.
You need to look at pacing and points per game and points per innings pitched to see where you truly stand. If you're averaging 3.5 P/IP but you've logged 250 innings you might be in first but you're definitely not winning.
In league 504, I am in first in the standings. I currently have the best offense in P/G and the 4th best pitching staff in P/IP (damn Conley for giving up those dingers), so I am in a good place there. Also, I haven't charged out of the gate by starting every scheduled starter and find myself in the middle third in terms of IP. I am in a good spot. You have to look at the underlying reasons for why you stand where you do.
What is a good P/IP and P/G ratio in Ottoneu points?
Someone on Slack asked recently what a "good" P/IP and P/G ratio should be for a team.
Some pitching benchmarks:
In 2015, the average league champion (all leagues) in FGPTS pitched 5.65 P/IP
In 2014, the average league champion (all leagues) in FGPTS pitched 5.70 P/IP.
Elite pitching teams get close to 6.0 P/IP over a full season, so anything over 5.50 is pretty solid. Obviously this number will fluctuate greatly early in the year, and his especially influenced by HR/9
Some offensive benchmarks:
In 2015, the average league champion (all leagues) in FGPTS hit 5.40 P/IP
In 2014, the average league champion (all leagues) in FGPTS hit 5.10 P/IP.
Hitting 6.0 P/G for a full season would be an incredible accomplishment; only a few teams have done it.
Here are the top 30 players who increased ownership in Ottoneu (all league types) over the first month of the 2016 season: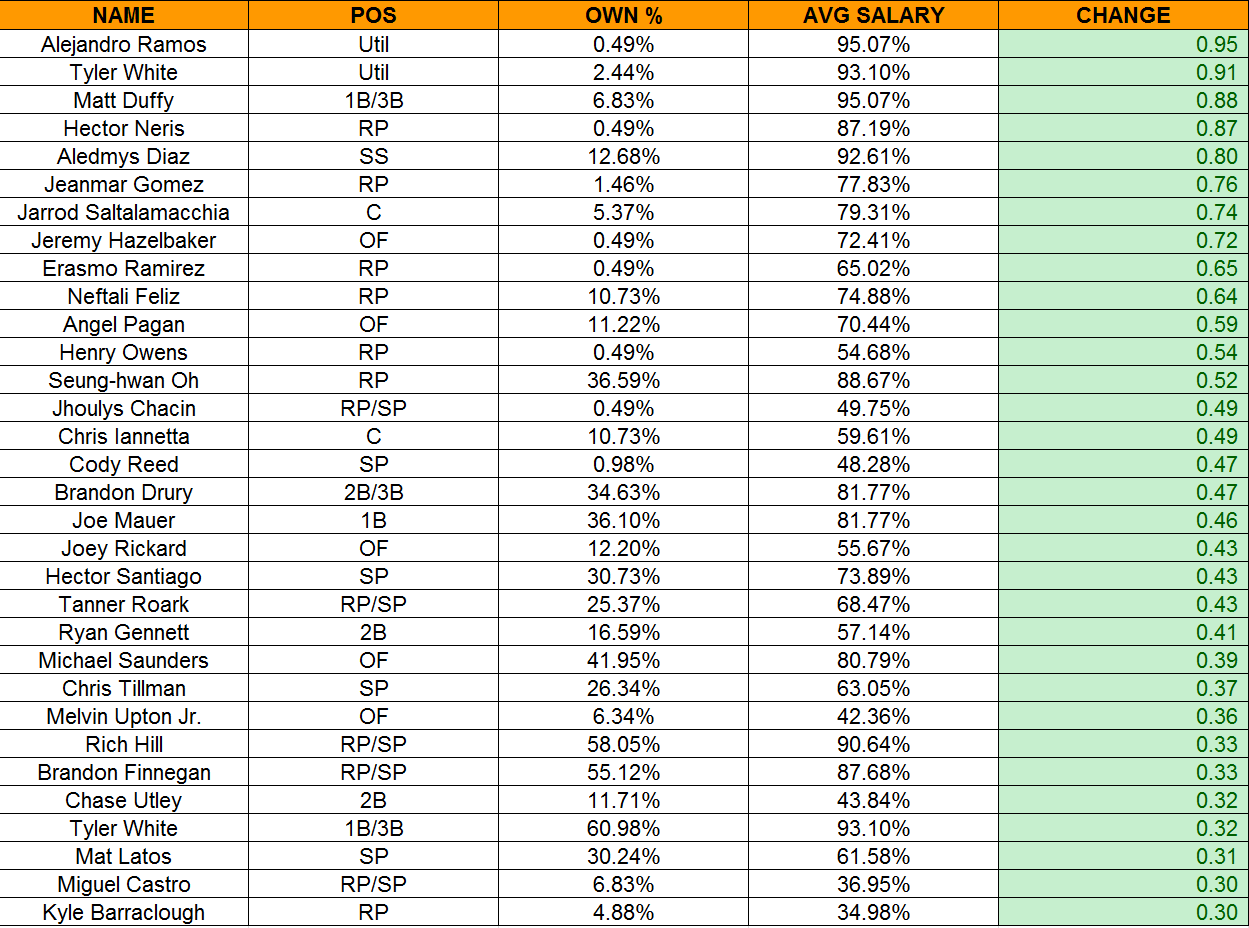 As of May 15th 2016, which starting pitcher would you choose ROS in Ottoneu as the next best SP behind Clayton Kershaw?
Max Scherzer
Jake Arrieta
Jose Fernandez
Chris Sale
Noah Syndergaard
Corey Kluber
Um, looks like you might be name/alias matching, which is causing duplication issues (e.g. your top three).
Any update on this? It was posted in April - has this become easier in your league as the season progressed and owners got to know one another?
Would anyone be interested in a page in Ottoneu that showed all teams together, by game type (FGPTS, SABR, 4x4, 5x5)? In other words, a "leaderboard" that ranked the top 100 teams (or top 25) from all leagues? It's one thing to win or compete in your league, but anyone else think it would be fun to see how you rank daily against all teams?
Just brainstorming. Might also be a good time to discuss the interest level in Head to Head for 2017 Ottoneu?
I know Niv prefers having the feedback housed here on the Community.
Love the idea of a leaderboard for the whole Ottoneu universe. I really don't know how functional H2H in SABR or FGPts. I am in an H2H league on ESPN using FGPts and the only valuable players are SPs and there is no risk in just throwing every SP you have out there even with a 60 IP limit per week. It would have to be more of a start limit and not innings, but even so relievers will mean nothing.
I think a daily leaderboard for all the top 50 teams by each game type would be a cool feature. I know I would check it out routinely.