For those looking for a baseball league to join in 2017, I am likely to begin recruiting soon for a new league that will bring a twist to traditional ottoneu. This will be a very active prize league that includes a non-roster minor league system (somewhat similar to 5MiLB).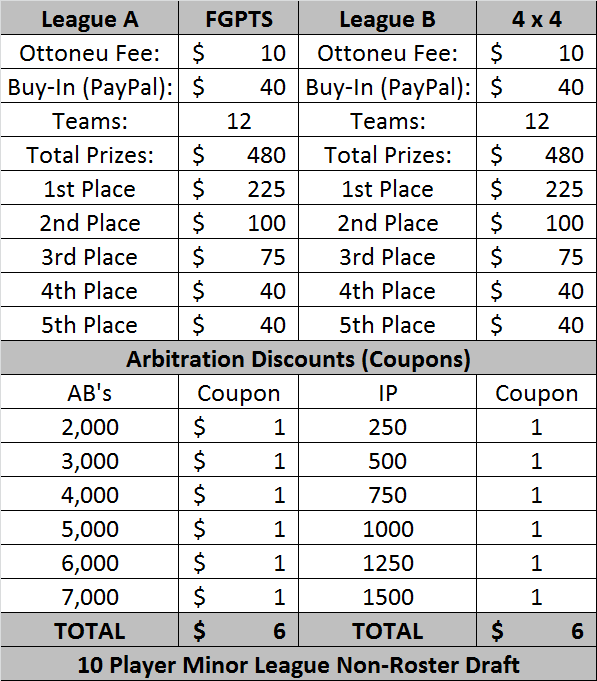 Still tinkering with rules and setup, but the foundation of this new league is this:
The league will consist of 12 owners drafting once to fill two separate leagues, one of which is 4x4 scoring, the other is FGPTs. The same 12 owners will fill both leagues (A & B). Only one initial 2017 auction draft will take place, but prizes will be paid out (1st - 5th place) in both leagues, so owners will essentially have the option to draft with a strategy to try and win one or the other (or both). After the initial auction, a separate auction draft will take place for each league (A & B) in Y2+. Player transactions (trades, waivers, auctions) be separate between both leagues following the initial auction, so over time owners will manager different rosters between their two teams in both leagues.
In addition to 12 owners managing two different rosters (A & B), both leagues will utilize arbitration discounts, or "coupons". For the first time these coupons will be awarded not based on finish, but on AB and IP thresholds, so that they are equally available to all owners by the end of the season. For example, for each 1,000 AB's (beginning at 2,000), each owner will earn $1 in coupons, used to offset annual arbitration. Each team achieving 7,000 or more AB's in a season will earn $6 in coupons, and another $6 (total of $12) for reaching the 1,500 IP cap at season's end.
More details to come as this league will likely be created this winter, but if you have questions or interest in joining this league please let me know.