This is a place to pin and discuss Ottoneu records.
Here is a link to the Ottoneu All-Time Leaders in FGPTS:
Don't know if it's a record yet or not, but probably good to record the insane start by Vince Velazquez today: 9 IP, 3 H, 0 BB, 16 K vs. Padres

Entering 2016, Greg Wellemeyer holds the records for highest all-time score in FGPTS with 20,530 in 2015 (Bull Durham League, 52)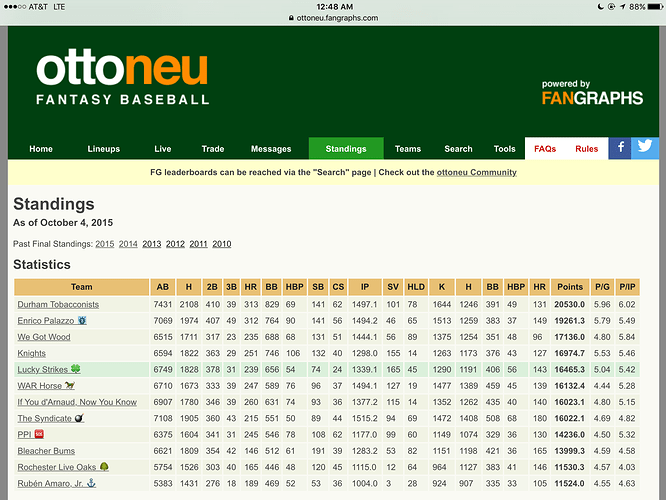 Kershaw's no-no was the most points in a start in the Otto era wasn't it? I know I had him on my team that year and it was an absurd 0 hit 15 k performance
Pretty sure Kershaw's no-no scored 90 something points. Last year I believe Scherzer got close to a higher score but fell just short.
Actually Scherzer should have scored 100.6 (9IP 0H 0BB 17K) and Kershaw should have scored 96.6 9IP 0H 0BB 15K, right?
I stand corrected. Maybe it's my Dodger fan bias.
Yes, @DSpracale is right: on 10.3.15 Scherzer scored 100.6 FGPTS in a 9 IP no-no with 17k. It was a 104 Game Score.
Velazquez's start yesterday was actually just a shade better than Kluber's 8 IP, 1 H, 18 K game last May (89.6 FGPTS).
Those are the best starts I've seen.
No no I was actually the one that brought up Kershaw's game first and then corrected myself in the next post. That wasn't your bias, that was me just thinking through the last two seasons.
Not sure if it's an record but Jason Hammel's July 1st start has to be one of the worst in Ottoneu history: 4 IP, 5 HRA, -55 points (FGPTS).


Oddly enough, my team was third in the June Ottoneu Power Rankings (FG points) after that terrible hammel start. Im not sure how my ratios handled such a harsh score.
My only option is to "like" this post, but that feels wrong in this case. This looks painful…
This team had been a total letdown all season, and by this point had reached "I'm not even mad, that's amazing" territory. But they can be standard-bearers here until someone can worst them!
There's probably a badge I could find for this on here somewhere…
21,346.8 FGPTS (2016) - Murder Boners
I think @eamuscatuli will verify this week, but Ethan (Murder Boners) now owns the new all time records in FGPTS, scoring 21,346.8 ($464 salary) today in league 194. This blows away the previous (2015) record of 20,530.
Congrats Ethan.
Have the final power rankings been released yet? What about all-time rankings?
I think it would be fun to know all time homer leaders etc as well, but that might be easier said than done.